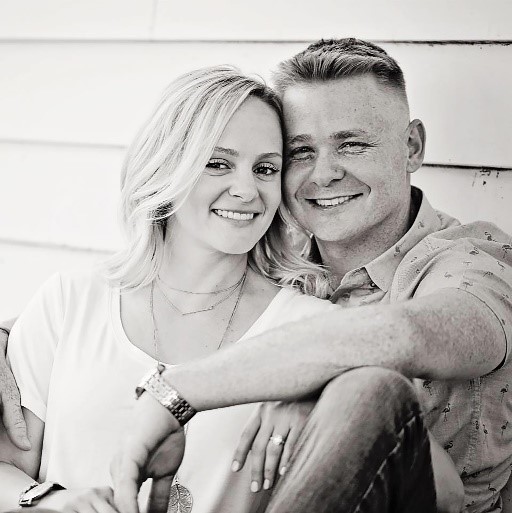 I knew from the second I met Afton, that I needed her in my life. When I met Bobby, it wasn't love at first sight or even second or third sight.
Bobby – Love at first sight isn't common in most people's lives, though when I joined Keller Williams there was something special about this one they called "Afton" … Her energy, work ethic, personality and smile that I'd see each day, I fell in love without a second thought. Now, with all great love stories they don't always add up perfectly and that was exactly the case for this one. Afton hated me!!! Why?!??! How?!?! When?!?! Hate is a strong word, yet she she was NOT a fan. At times I can be considered the class clown or the ultimate bachelor, and for Afton (a very studious, successful businesswoman and Realtor), she wanted nothing to do with me!! I would ask myself "How?!?! Why?!?!"
After 8 months of consistent follow up, drip emails, mailers, text messages, and bi-weekly phone calls, pop in the office face-to-face "hello's" I FINALLY succeeded! We finally went on our first date to a lovely night at every women's favorite place (drum roll please), a KINGS Game!! News alert… she's not a huge fan of basketball though she kindly accompanied me. Then after a lovely date and a few more follow up calls we got Married! Just kidding, she decided dating wasn't for her for a while, and pushed me aside for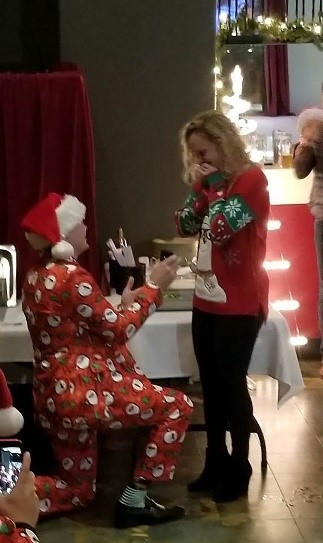 another month or two. As my heart was kicked and dragged through the mud, I started to play hard to get! Well, more so thinking that "maybe I should take my dad's advice and give up on this one…" In my last effort to win Afton officially over… it worked! Little did I know giving a women space was my best quality! She actually called me this time, and we've been inseparable ever since that day. A year and a half after, we have laughed together, loved, eaten, sold real estate together and traveled, enjoyed each other's company through it all. I remember telling her "your going to love me one day!" and I was right!
Then came December 2018; there was a sense of "hmmmmm, maybe I'm ready for the next step?" So, I did what any other man would do; I went to Zale's and bought a ring, then bought a sporty Santa suite/tie combo from Target and decided to propose at our Holiday Christmas party with Keller Williams. It was the perfect time and place since we met at work and have a lot of friends and "work family" who have watched our story unfold, as well as having our close family and friends were there with us to celebrate. October 12, 2019 we were married at the Old Firehouse in Old Sacramento with 150 of our closest friends and relatives. It's been a great love story, friendship and partnership that I wouldn't trade for the world.
Afton – When I met Bobby in the fall of 2016, it wasn't love at first sight. He was new to the real estate firm where I worked, Keller Williams. Upon meeting him, I dismissed him as just a guy and had no time for his shenanigans. He didn't disappear after the first brush-off… At our workplace, everyone spends a lot of time together, we are like family. So as our work family would get together to go out for drinks or happy hour after work, he was always there. He just kept popping up in my life.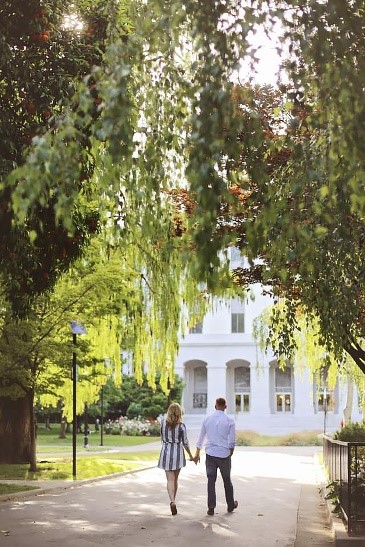 Over the next several months, I went through some significant changes in my business that were difficult and emotional. Some days I just really needed a break or a change in pace, and Bobby was always there. Out of the blue I'd hear my phone ring, or he'd walk by my office, and twenty minutes later we'd be sitting down to lunch or meeting up for drinks. He always seemed to have perfect timing. I'd continue to see the way he'd look at me and my feelings began to change from "this is never going to happen, give up already" to "maybe he's EXACTLY who you've been looking for, and you'll never know if you don't get out of your own way and give him a chance.." I started to see Bobby in a new way. The old saying is true, that "timing really is everything." By this time, he had stopped calling, stopped texting, no longer randomly came by my office to say "hi…" He had finally given up.
After a few weeks of silence, and me doing most of the talking and reaching out, I finally asked him to be together and we've been inseparable ever since! These past few years have been wonderful as we brought our lives together. I never thought it was possible to share a love like this with someone... To find someone who shares the same goals and dreams for life, family and business. I feel truly blessed every day and so thankful to have come to my senses before letting him slip away! With all these changes, Bobby and I knew it was time for one more, the merging of our two real estate businesses. One of our next greatest adventures!
We aim to always provide world class service when you choose us as your realtors. We are the yin to each other's yang and now we bring that to real estate to provide the best of both worlds. We do everything as a team in our family and bring a level of attention to each project that you won't find anywhere else.
There's one thing that we'd love your help with, and that's a team name! Afton and Associates and Peterson Group are each identities of who we used to be, before our life together. We will remain true to our nature as a united front taking the best of both to create something even better. We just can't decide on one ourselves. We're asking you to be a part of this journey with us and help us decide, what's our name?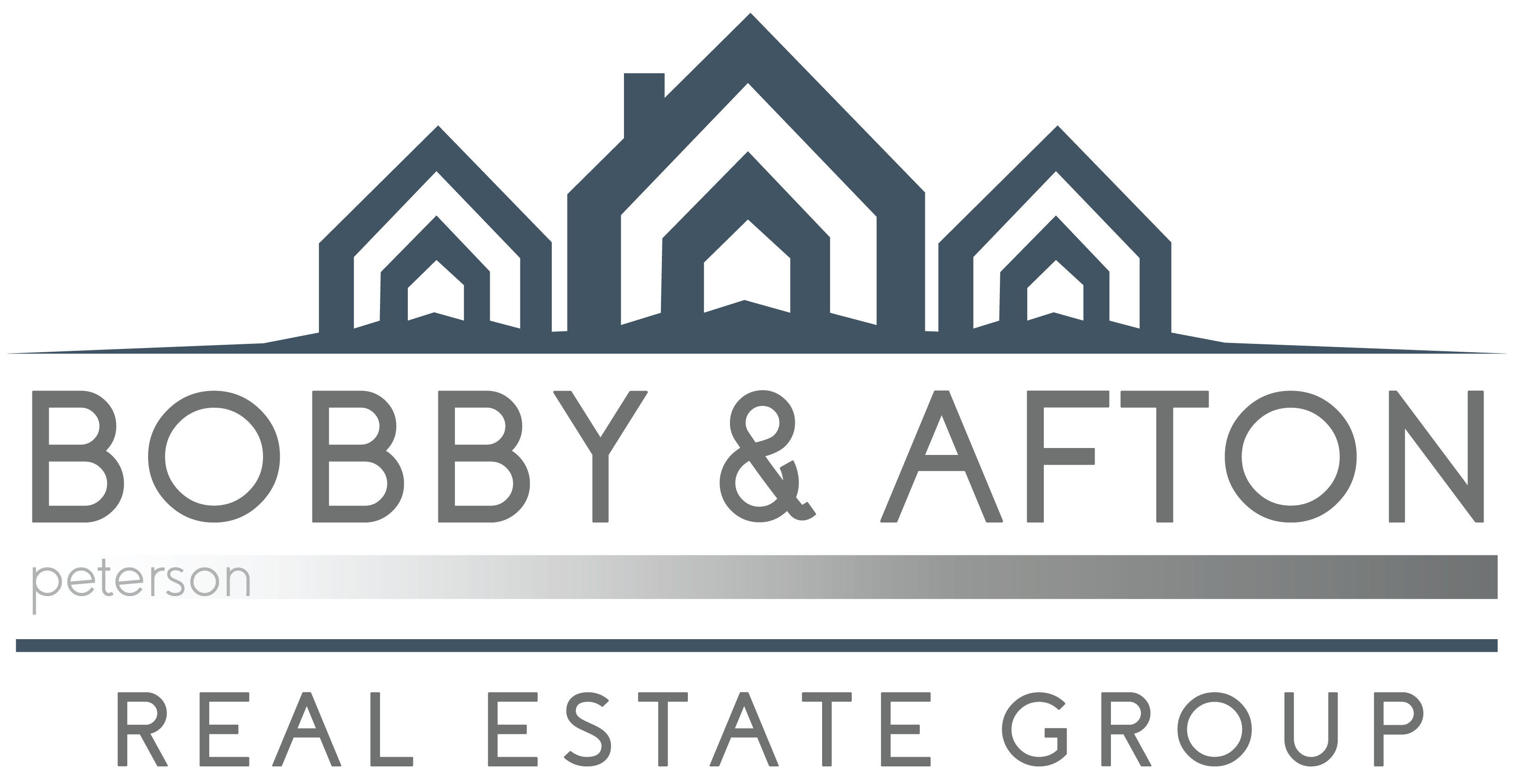 Buying and selling a home is more than a transaction, it's a decision that affects your entire family. As a new family ourselves, we're embracing all the change that goes along with it and evolving into something better than before. We're bringing together our two separate real estate companies to provide you with the best possible service. World class service is what we aim for and we're not afraid to use everything we have in order to achieve it! Between the two of us, we can cover all your real estate needs from renovation assistants and investment properties, to traditional selling or buying or both! We know this is a big step for your family and we want to be there for you every step of the way. Just one question, would you like to bring us on your journey?




Sincerely,


Bobby Peterson


REALTOR®






Afton Peterson




REALTOR®
Bobby & Afton Peterson
REALTOR ®
License Numbers: 01975523 | 01880424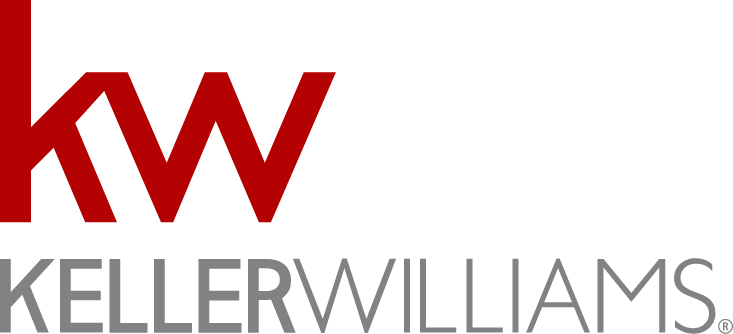 Broker: Keller Williams Realty
CalBRE Broker Number: 01485473